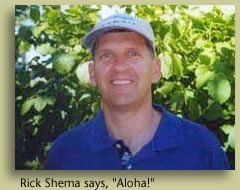 Rick Shema is a unique weather guy. He combines years of yacht racing experience with weather forecast skills learned as a U.S. Navy meteorologist and oceanographer. He has sailed most of the world's northern hemisphere oceans and seas either on U.S. Navy ships or on sailing vessels
He received his Master of Science degree in Meteorology and Oceanography from the Naval Postgraduate School, Monterey, California, and Bachelor of Science degree from Penn State University. His background includes serving as chief meteorologist and forecaster at sea onboard an aircraft carrier home ported in Mayport, Florida.
Shema was responsible for time critical weather and ocean forecasts for accompanying cruisers and destroyer escorts in the Atlantic Ocean, Mediterranean and Caribbean Seas. Shore side, he served as operations officer and later executive officer of the U.S. Navy weather office in Pearl Harbor. He was responsible for and provided forecasts and ship routing to avoid hazardous weather in support of Department of Defense assets in the Pacific and Indian Oceans. His tactical skills optimized the employment of naval sensors and weapons during various warfare operations.
Rick retired from the Navy after 23 years of service. He then put WeatherGuy.com into full operation, a company he had started in 1995 and pursued part time until 2002.
In association with WeatherGuy.com, Rick Shema forecasted weather conditions for speed record sailing attempts, TRANSPAC, Pacific Cup, Kenwood Cup, races to Mexico in addition to other events. Clients include racing, cruising and delivery captains on sailing and motor vessels. A Pacific Cup and TRANSPAC racer, he is available as a forecaster or crew for long distance yacht races.
For more than twenty-five years, Shema has enjoyed the pleasures of yacht ownership having possessed sailboat from 24 to 36 feet. He enjoys racing and cruising his family owned boats in the Hawaiian Islands. Having sailed in various types of weather conditions since childhood, he grew to appreciate the value of a good forecast. He currently owns Heat Wave (J/110) and has raced the boat and others in West Marine Pacific Cups, Trans PacificYacht Races, and local club races