At one point, I remember three mountains in a row, each different. One was the color of charcoal, the other speckled with sparse vegetation, and the third made of pink rock. I regretted that we had neither the time, nor the inclination to linger at Magdelena or Turtle Bay, but we could ill afford to squander our fine weather window.
Too bad, because this incredible peninsula is truly Mexico's last frontier. I've made several road trips to Baja over the years, and have always dreamed of cruising up the Sea of Cortez. That is, the other side of the peninsula.
As we steamed northward, California Grey Whales were steaming south. We saw plenty and heard even more, as the whales loudly exhaled plumes of spray into the air. Nor were they the only marine mammals. At one point we passed a migrating battalion of pacific white-sided dolphins heard the Luggers and charged toward Ho'Okele by the hundreds. Amazing how swiftly they swim, I thought, as the leaders took turns rubbing their backs on our bow wake. I noticed, too, that water temperature had dropped to 67 degrees, a dramatic contrast to the 80-degree waters we enjoyed off "mainland" Mexico.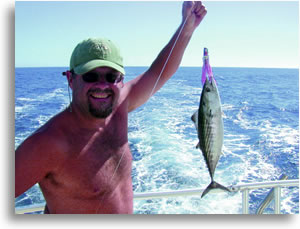 As passed between the peninsula and the big island of Cedros, I got to thinking about how dangerous the outer coast could be in the event of engine failure. It was, after all, a 700-mile lee shore. I wondered how many hours it would take for the wind and Pacific sea swell to put a boat like ours onto that sawblade coast, and I was comforted by the rumbling of not one, but two motors beneath my feet.
Night reinforced our sense of being totally alone-no other boats, no lights ashore, no radio traffic. Night was cold, and with a desert clarity unknown to us on the East Coast. So intense were the stars and the Milky Way that it seemed like we were no longer traveling beneath, but through them. We were cruising through space.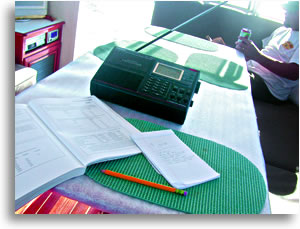 From my home base, I had heard descriptions of another voyage in the opposite direction. I remember waving to Boundary Waters, a 50-foot Nordhavn, as she approached Panama. She was making the journey from Dana Point California to Florida. Accounts of the Nordhavn's mechanical breakdowns and bad weather decisions had been posted for all to see on www.trawlerworld.com (search for "travels"). I couldn't begin to fathom how a crew of four in such a reputable and well-equipped vessel and with the help of a professional weather router could be doing so badly compared to Chef Charles and I aboard Ho'Okele.
And it worried me.
With two days left to get to Ensenada, I remembered Das Boot, a German film following the course of a World War II U-boat mission. As you may recall, the crew survives all manner of horrific challenges only to be slaughtered by an Allied air attack just moments before they reach the protection of the concrete sub pens at LaRochelle in France.
I imagined a similar fate for Ho'Okele, some huge screw-up or uncharted pinnacle that would wreck our trip just as safety-in our case, Ensenada-was within reach.
Happily that was not to be.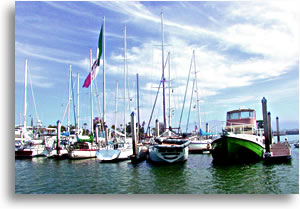 The Super Bowl had just begun as we rounded Punta Banda and steamed toward the pink hotel and red cargo cranes that loom high over Ensenada. In a breeze we would have also seen a Mexican flag the size of Kansas, but the air was still. From Cabo, our passage had taken five days.
We made it! That night we would hoist our glasses at Hussong's Cantina, the 100-year-old bar around which Ensenada had grown. Salud a todos. Ho'Okele would wait for weather to cross to Hawaii at the Baja Naval b oatyard, one of the finest facilities of its kind in any country.
'Til next time.