Westward Ho'Okele: Dispatch 3
Isla Mujeres to Panama
By Peter Swanson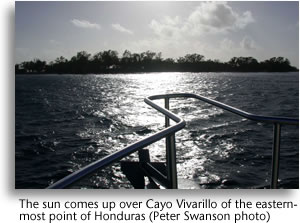 GULF OF YUCATAN, December 10, 2002-Ho'Okele glided across a peaceful Mayan Sea as the latest cold front stalled well behind us over Cuba. For the next five days, the only weather besides the trade winds would be a march of spittle-small squalls drifting down from the remnants of last week's norther. Jim Cole, an Associated Press photographer friend, and I had set a course for the western tip of Honduras-445 nautical miles distant from Isla Mujeres. Before setting out we had done what I advise all passagemakers to do. That is, visit the U.S. Navy FNMOC website for world wave heights and directions. This site can be found by going to the Google search engine and typing in "WAM North Atlantic." The first site in the queue should be the one. This highly valuable, but apparently little known resource provides an excellent forecast for sea state using ocean maps, which are color coded for wave heights with arrows to show direction. A scroll of 12 ocean charts shows sea states for every 12 hours for 144 hours ahead. And that period would cover our entire trip to Panama. The site showed small seas for most of the period. The worst we were predicted to get were 6 to 9-foot seas, but they would be on our port quarter. On the Navigators, following seas make for an easy ride.
By the second night, Jim and I had settled into our double-handed routine. Days were casual. Jim would make coffee and breakfast-cheese omelets or French toast. We would read, write, process our digital photos. With Furuno integrated NAVNET navigational system and Simrad autopilot collaborating to steer the boat, there was little we humans had to do but keep an eye out for shipping. Of which there was none. Sandwiches or yogurt for lunch. Dinner was pizza in the convection oven. At night we formalized our watches-3 on, 3 off until midnight, then 2 on, 2 off until 8 a.m. At the end of each watch we penciled in our position on the small-scale Caribbean chart.Invariably we were true to our rhumb line.
On our second night out from Isla Mujeres I awoke for my watch to a light show outside the deckhouse windows. Jim, who preferred to stand watch on the flybridge, was flashing the spotlight into the water roiling past our hull. Was there debris in the water? No. Jim was playing flashlight tag with a pod (herd? platoon?) of dolphin, rubbing their backs on our wash. It confirmed my theory about news photographers-the best ones are childlike in their approach to life; every front-page picture is like a fourth grader's crayon drawing attached to the refrigerator door.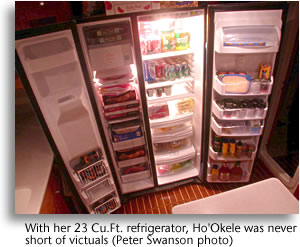 Fifty-six hours of uneventful running brought us inside the reefs off Honduras. As a passage guide we had been using Cruising Ports: Florida to California via Panama by captains Pat and John Rains. These professional mariners recommended laying over in the lee of tiny Cayo Vivarillo, and we took their advice, arriving in the dark at 7 p.m. At anchor, the dinner ritual became more elaborate. We fried up our frozen pork chops accompanied by baked potatoes and corn. By the time we turned in, we were joined by a half dozen Honduran shrimpers anchoring for the night. In the morning Jim took a swim and had me take his picture doing goofy dives off the deckhouse (my theory holds). Then we transferred the 120 gallons of fuel in our secondary tank to the main, and set off inside the reefs off Nicaragua's notorious Moskito coast-another uneventful passage, though the depth got down to 25 feet as we rounded Cabo Gracias a Dios.
By evening we were coming out of the bottom of the reefs and heading back into deep water. By next evening we were abeam San Andres Island, which by a quirk of history belongs to distant Columbia. The island is a resort for the Columbian elite and has an international airport, which serves as a hub between Columbia and her Central American neighbors. (Even though Panama and Columbia share a border, there is no roadlink between the two, and the border jungles are infested with guerilla forces.) In any event, the island discourages unscheduled stops by the likes of us, and we pressed on, heading directly for Colon, the northern terminus of the Panama Canal.
Friday the 13th was benign. At midnight we slid between the breakwaters that define the entrance to the Port of Cristobal and the city of Colon. Canal authorities directed us to "The flats" a quarantine anchorage, where we dropped the hook and tossed back a ceremonial shot of Mexican Mezcal. We went to sleep. An alarm went off in my head. A squall was running through and we had dragged into 7 feet of water. I woke Jim, started up the Luggers and went to re-anchor. The boat was new and the all-chain rode had not been marked. Undoubtedly we had short scoped ourselves for want of markings. I put that on my list and set our GPS anchor alarm for 100 yards. We went back to sleep, knowing that the next few days would be unforgettable no matter happened. 'Til next time.
-Peter Swanson