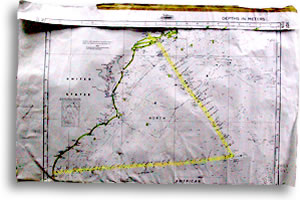 We made it! Sorry for the lack of updates, but we never could get the computer to interface with the Sat Phone during our trip to and from Bermuda.
The trip in a nutshell - Great!
We left St. Mary's Inlet at 1630 on Monday, August 19th, and pulled into St. Georges, Bermuda at 0330 on Sunday, the 25th; 5-1/2 days. Turns out we had a head current most of the way. At 2,500 RPM, we were averaging 7 knots through the water and 6-1/4 knots across the bottom. Filled up in Bermuda - took 311 gallons of diesel fuel (about US$1,200!)
We spent Sunday site-seeing and replenishing supplies. Downtown Hamilton was shut down other than a few bars and tourist shops (got T shirts to bring home.) Cocktails at the Princess Hotel poolside. Dinner at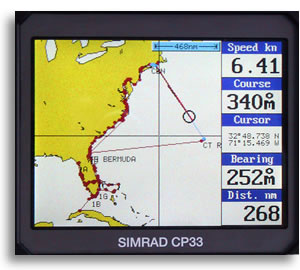 Swizzels (a fun pub on the road back to St. Georges.)
The return to Old Saybrook, Connecticut, took 4 days. We left at 0600 Monday and headed northwest at 7.4 knots at 2,800 RPMs. Better currents, except for the Gulf Steam which slowed us down to less than 5 knots at times. We arrived at the mouth of the Connecticut River at 0330, Friday, August 30th. Cleared customs and fueled up (302 gallons) later in the morning and motored up river to Haddam.
Would we do it again? Hell yes! But? The same mileage from Florida to Bermuda would have taken us non-stop to Newfoundland. From there, it's just a short hop to the mouth of the St. Lawrence. It's even less miles to the Virgins in the Caribbean. Or? We could have turned right in Bermuda and headed to the Azores. With the weather window we had, such a trip would not be beyond the capability of the Navigator. We would have needed to prepare for it though; a bladder tank or two for the additional fuel, more food, and some DVDs other than the "Perfect Storm" to watch. Stay tuned.
The photo at the top is the chart we used to log the trip, noting our lat/long every few hours. The other photo is the same view on the plotter (note: the bearing and distance is to the cursor, not Montauk.)