Preparing and provisioning
Mirage associate Reuben Trane would be the skipper, but it was up to me to prepare and provision Semper Fi.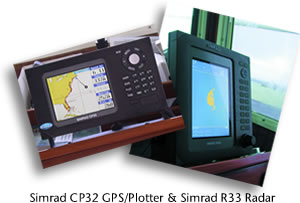 First of all the boat was shy of electronics, so we shipped aboard a Simrad R31 radar and CP32 GPS-chartplotter. We decided against a single sideband radio in favor of a Sangean short-wave receiver with built in cassette recorder, enabling us to record U.S. government offshore forecasts transmitted on NOAA's NMN radio (affectionately known as "November Mike November"). (Make certain if you buy a short-wave receiver that it has BFO tuning because that's the only way to hear the NMN forecast). For long-range voice and data communications we bought a Globalstar satellite phone and service, which extends to Bermuda.
For charts, I ordered from Bluewater Books in Fort Lauderdale. I got an Atlantic Pilot Chart, which is a book that includes 12 charts for the Atlantic Ocean, with directional arrows showing prevailing winds and currents for every month of the year. We also obtained an excellent Imray-Iolare chart of Bermuda and a Defense Mapping Agency chart of the western North Atlantic for plotting. For the return, we shipped aboard the Maptech chartkit for Narraganset Bay to Cape May. Those were just the paper charts.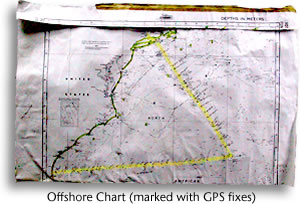 Ken Cirillo of C-Map provided us with cartridges for the Atlantic and entire U.S. East Coast. Additionally we obtained Nobeltec electronic charts for the ship's laptop computer.
That's a lot of navigational redundancy for a destination that you can probably find by following the contrails of daily jetliners loaded with vacationing golfers.
Meanwhile Mirage's rigging team went through the boat, replacing every filter and belt and stowing spares for the twin 56-hp Yanmars. The redundancy of twins is the reason we felt comfortable crossing 900 miles of open ocean. If one motor were to fail, the second would carry her to the destination with little loss in speed.
Food, Glorious Food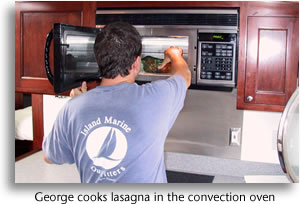 Good food makes for a happy crew. Peanut butter-and-jelly provisioners should be flogged. If an offshore passage is routine, the crew looks forward to meals because besides standing watch and reading, there's little else to look forward to other than the destination. When the weather turns mean, good food is essential to keeping up a crew's strength and morale.
The first stop is always Sam's Club or the equivalent. On the Navigator, passage meals are prepared in the ship's convection-microwave oven, so my goal was to fill the freezer side of the boat's double-door full-size GE refrigerator with all manner of hearty meals, including lasagnas, chicken wings and many pizzas. For desert we shipped aboard a crate load of ice cream sandwiches. Cookies, too.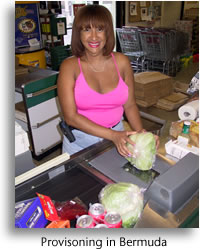 The other side of the fridge I filled with individual-serve yogurts, deli items, fruit, juice, soft drinks and an assortment of candy bars. For backup, we filled the cabinets with canned soups and vegetables. And tuna fish is always a must, but one of world's the great provisioning secrets has to be the canned chicken breast sold at Sam's-white breast meat for sandwiches, soups and even exotic applications such as curries. Another tip: Try the big jars of three-bean salad. Excellent stuff.
The rule of thumb when provisioning for a sea voyage is to estimate the number of meals to be eaten then buy twice as much food. A crew of 4 would take the boat from Florida to Bermuda-about 5 ½ days; two would complete the 4-day trip to New England. Based on that, I spent about $600 on food and drink, including a case of beer and six, liter bottles of Chilean Cabernet-Merlot. Yippee!