Mirage Shows the NEW Pilot House 32 'Classic' at Miami Show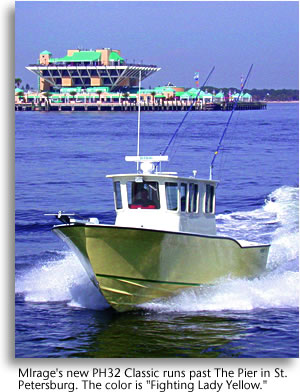 Mirage Manufacturing of Gainesville, Florida will show its Pilot House 32 with "classic interior" at the Miami International Boat Show in February, 2003.
First seen at the Fall St. Petersburg show, the PH 32 is the latest incarnation of Mirage's popular sportfish hull, which has been sold for years as a center console.
"We've sold a lot of sportfish boats in the South," said Mirage President Ken Fickett. "With the Pilot House 32 Classic we hope to attract more buyers here at home but also from the cooler waters of California and the Northeast. It's a great platform for for fishing and cruising."
Mirage hand lays the hulls of all its sportfish boats using full foam core construction. Hull, deck, bulkheads and longitudinals are integrated into a single structure. A single Volvo diesel and duoprop outdrive quickly brings the PH32 onto plane because of her lightweight yet tough construction-dry weight is just 6,000 pounds.
Like other Mirage 32s, the PH includes belowdecks accommodations for four with a V-berth and double amidships, plus stand-up shower and head. What distinguishes the classic interior package are its mahogany trim and furnishings, teak-and-holly floor, compact galley with sink, refrigerator, microwave oven, built-in cutting board, storage bench and folding helm seat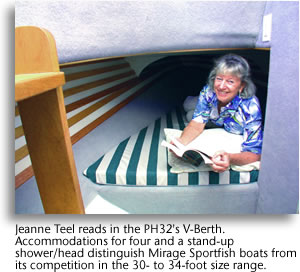 .
Paul and Jeanne Teel of Bradenton, Florida bought the first PH 32 Classic to entertain twin passions for angling and waterborne travel. "What I would really like to do is take her to Belize," Paul Teel said. "I really think this is the kind of boat you can do that in."
The Teels hope to eventually cruise the Great Circle route-a route that begins on the East Coast, goes up the Hudson River, through the New York Canal System to the Great Lakes, then down the Mississippi to the Gulf of Mexico-fishing the entire way, no doubt. The PH 32's respectable cruising speed will allow them to linger along the most desirable sections, while making quick work of less interesting stretches.
With a Volvo Penta KAD300 the PH will cruise at 30 mph. Integral tankage for 230 gallons of fuel gives her the range that a vessel needs to make a passage from Florida to the remote fishing grounds of the lower Bahamas or Belize.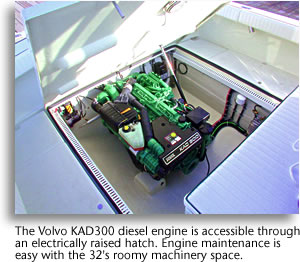 "We really think that the KAD300 setup is best," Fickett said. "You can head to the Bahamas on Friday, fish all weekend and come back Monday without ever having to stop for fuel, or slow down, for that matter.
"But if you insist on twin diesels or outboards," Fickett said, "we can accommodate you, and the boat will perform as well or better than anything else in her class."
Since 1971, Mirage Manufacturing has been building custom boats in Gainesville, Florida, where it pioneered construction techniques for high-performance sailboats. Though it no longer makes sailboats, the same methods are used to build the extremely strong, lightweight hulls that typify its sportfish line. Mirage can be reached at 352-377-4146.
The Teels would be happy to answer any questions posed via email to paul@leetco.com