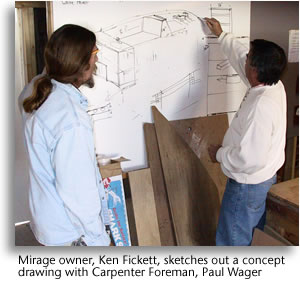 The Development of the N37 Flybridge
Almost from the first showing of the N37, we started hearing from the boating public, "Where's the flybridge?" The Mirage Design Team, feeling we knew what's best for our buyers, demured, saying something to the effect that if you have a "good" inside steering station, what the heck do you need a flybridge for? In fact, the inside steering station on the N37 is among the best out there, with plenty of glass, good 360 degree visibility, full sized door to outside walk-around deck (handy for docking single-handed) and with good seating for not only the skipper, but the navigator and the rest of the crew (on a raised,.comfortable settee).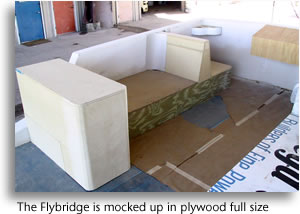 But, after resisting for over a year, we finally broke down and started listening closely to those advocating a proper flybridge.If we were going to do a flybridge, we wanted to do it right from the get-go. Early concept drawings emphasized a "U" shaped settee with a helm to starboard. This was felt to be lacking; there were no forward-facing seats adjacent to the helm. Mirage owner, Ken Fickett, and carpenter foreman, Paul Wager, worked together to come up with the final design - centerline helm with 2 forward-facing benches port & starboard AND 2 full-length fore & aft settees aft, each long enough to nap and sun bathe on. There is room for a drop-leaf table between the settees - you'll be able to sit 6 comfortably around the table for lunch or a star-lit dinner!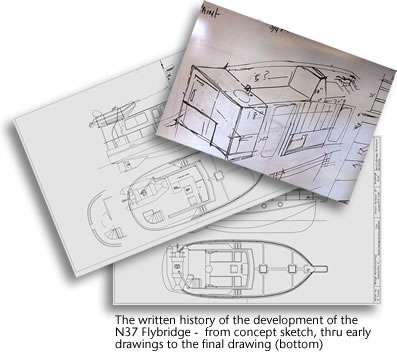 An optional fiberglass cabinet will sit over the foot of one of these settees - a perfect place to fit a gas grill (you can see this in one of the mock-up photos.)
Still to be worked out are the ladder from the aft deck, railings, and a suitable mount for the radar, lights and antennas. Current thinking is an aluminum radar arch. If we're clever enough, we'll create a dinghy hoist/davit as in integral part of this arch, AND make the whole thing folding for low bridge clearance. We still want you to be able to cruise the entire length of the Erie Barge Canal! There is plenty of room for a 500# (or less) 9'6" dink to port. And room for a few additional water toys, kayak, wind surfer, etc.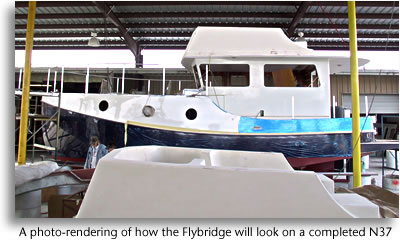 We're building the first of the flybridge N37 now with a scheduled launching later this spring. We'll be showing her for the first time in Newport, Rhode Island, at the September 2003 boat show.
Contact us if you'd like more information on the N37 flybridge model.