GAINESVILLE—Nineteenth Century sea captains would often bring their ship's carpenters ashore when they wanted their houses built. These homes, with their outstanding woodwork and built-in cabinetry, are still the showpieces their builders intended and are featured on heritage tours from Key West to Eastport, Maine.
Mirage Manufacturing, which has been building boats in Gainesville since 1971, is offering the same service once provided by the shipwrights of olden days. Mirage is offering landlubbers the same level of custom cabinetry found in its trawler yacht line, whose flagship is 47-feet long and sells for up to $750,000.
Tom Zavelson, a local physician and a longtime yachtsman in his own right, asked Mirage to build a wall-to-wall cabinet and entertainment center after he and his wife, Gail, decide to renovate a music and television room.
The genesis of the project, Mirage's first venture into custom home furnishings, was the friendship between Mirage President Ken Fickett and Zavelson, the Fickett family pediatrician. "Plus, I was extremely impressed with the quality and interior design of the boats Mirage makes," Zavelson said. "And Gail really wanted storage space…If you look at the difference between home cabinets and those in a boat, in a boat you have to use every square inch of usable space.
"Boat designers, in particular, have experience in combining specific use storage with clean, classic lines. The Zavelsons admired the way many yacht designers use drawers instead of shelving for storage because of the more efficient use of space, not to mention that shelved items are not as secure in a sea way.
Fickett surprised Zavelson when he agreed to have Mirage take on the project. Not only was a cabinetry sideline a hedge against the cyclical nature of the boatbuilding business, Fickett said, but it provided the artisans in Mirage's woodshop—sometimes referred to as "the woodpeckers"—an opportunity to apply their talent and energy to something other than a boat.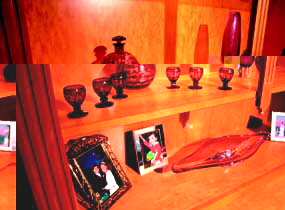 The rough draft for the cabinet came from Sheila Hawley of Interiors by Sheila, who was working with Gail Zavelson on the overall look of the 15-by-25-foot room. For further refinement the Zavelsons consulted a book on yacht furnishings with Mirage's cabinet shop foreman, Paul Wager.
They decided against teak and chose instead the nutty brown look of solid cherry. The idea was to complement the furniture and wall treatment, chosen to evoke a "Hemingway look" without being overtly nautical. The result was impressive: 8 foot tall by 15 foot wide, 23 full-extension drawers, 3 fixed and 4 adjustable glass shelves, custom lighting and finished with four coats of clear finish to bring out the wood's natural beauty. It even included an oversized drawer to accommodate Zavelsons favorite nautical charts. Fluted columns and custom crown moldings distinguish an otherwise classic yacht design.
The massive central TV berth is accessed by cabinet doors that recess into the cabinet after opening. The stereo system hides behind matched-grain tambor doors. Tambor is a method of gluing strips of wood onto canvas; doors made from tambor present a solid wood front when closed with the flexibility to slide out of sight on tracks.
The Mirage rigging department, which installs systems and electronics aboard its yachts, wired the stereo system and display lighting, which is remote controlled.
"It's really a beautiful cabinet," Zavelson said. "We're really, really happy with the design, workmanship and functionality…tickled."
Mirage's next project is for a Gainesville homeowner who wants to turn his kitchen into a ship's galley complete with traditional teak and holly floor. Again, the look of wood and space-saving considerations were major factors behind the project.
"Achieving this kind of quality and finish are not cheap," Fickett said. "But when the sawdust has settled, you'll have a permanent addition that will add value to your home, compared to off-the-shelf cabinetry that your kids will someday put in a yard sale."
For more information, call Mirage Manufacturing at 352-377-4146 or visit the Mirage website, www.mirage-mfg.com.